Eight Marketing Experts Sign Book Deal With Biz Smart Publishing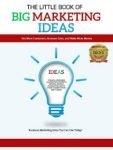 BizSmart Publishing announces that eight marketing experts have signed a book deal to contribute a chapter to the new book, The Little Book of Big Marketing Ideas.
The Little Book of Big Marketing Ideas features simple marketing ideas as described by eight real business owners – successful marketing consultants, business coaches, and entrepreneurs – without hype or gimmicks.  These business owners open the door to their businesses and reveal the business ideas they use day-to-day to get more customers, increase sales, and make more money.
The marketing experts who are contributing to the book, each an authority in their own areas of business and marketing, include:
* Jean Hanson, Duct Tape Marketing Consultant at Marketing SystemsByDesign.com, and Cleaning Industry Consultant
* Leslie Cardinal, Business Strategist, Coach, and Consultant at LeslieCardinal.com
* Connie Ragen Green, Marketing Madwoman at Huge Profits With Affiliate Marketing at ConnieRagenGreen.com
* Audra Slinkey, International Speaker, Fortune 500 Internet Marketing Consultant and President of TrulyBranded.com and the HomeStagingResource.com
* Lisa Almeida,  Marketing Director MyHolisticVillage.com, home of the National Holistic Chamber of CommerceTM and Owner of MarketMyHolisticBiz.com
* Summer Alexander, Professional Speaker on Mindset, Money & Marketing and CEO of MarketingMoneyMindset.com
* Laura Armbruster, Chief Content Strategist and President at KickItMarketing.com
* Debra Larson, Transformational Wealth & Marketing Coach and founder of Simply Wealthy by Debra at DebraLarson.com
The topics covered in the book include video marketing, affiliate marketing, content marketing, relationship marketing via email, mindset between marketing and money, branding with image marketing, effectively finding target markets offline and online, and building visibility and credibility in local marketing.
The chapter on content marketing, called, "Pint-Sized Tips for Big Content Success," written by Laura Armbruster, President and Chief Content Strategist for Kick It Marketing, provides proven tips used by large and small companies to make content work more effectively. Armbruster notes, "We all know content is king, but when it comes to continually creating strong, compelling content, we are often not prepared. Good content marketing is a marathon, not a sprint. Fortunately, the process does not have to be long and difficult. Simply understanding and implementing several pint-sized tips outlined in this book will prepare you to compete in the content race."
The mindset between marketing and money is explored in the chapter, "3 Most Missed Strategies to Creating a Highly Profitable Coaching Business."  In this chapter, Debra Larson, award winning Transformational Wealth & Marketing Coach and founder of Simply Wealthy by Debra, outlines three strategies helping entrepreneurs create a lucrative business by doing what they love. Larson adds, "Transformational business success comes from the underlying mindset behind the marketing and the relationship you have with money. You were not born to struggle in your business, you are meant to flourish, make fabulous money, fulfill your passion and work with only those that need and love you."
Look for The Little Book of Big Marketing Ideas for sale at Amazon.com in May 2014.